What Post Frame Construction Technologies Offers You
We help you succeed in your dreams of building and owning your own home. We show you how, by using this building method. You will be able to financially afford the sized house or building you really want.
We provide lending services for all incomes, wheather you need $25,000 or on up to $300,000 we can help.
We can provide you with engineered drawings and material lists for each structure designed.
We show you how to keep within your budget and to be able to afford the construction costs.
You Ask Yourself What's The Catch?
What's the catch? There is no catch. Just using your investment wisely. This building method can be used with or without a foundation. Money Saver!!! Please contact us to see how we can help you.




Visitors to our site.
Did we get your attention yet?

For more information, please browse our site. Check out the About page for more detailed information. Also, take the time to email us with questions and ordering information.
postframetech@hotmail.com
Meet your building team...

David Stutzman - President and Developer of Post Frame Building Method
Lita Pruisman - House and Building Designer
Mary Salvog - Web Master and Director of Advertising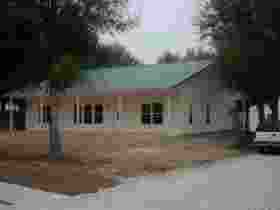 Post Frame Constructed Home
Inovative, Well Designed, Energy Efficient, Inexpensive